Retail
25 top uses of the Internet of Things in retail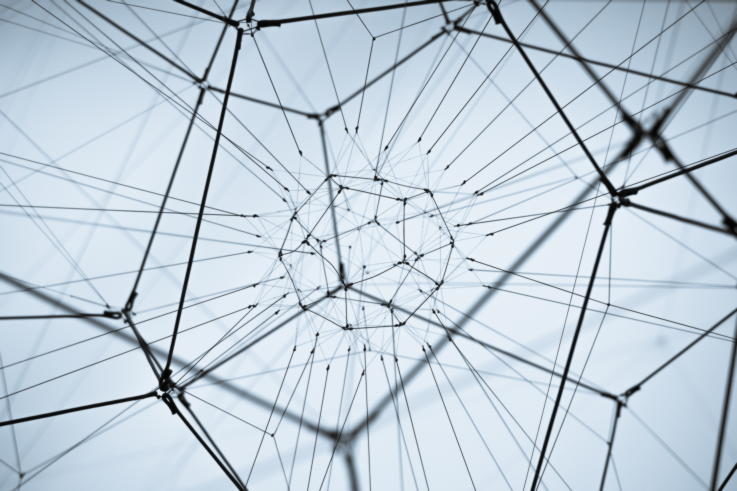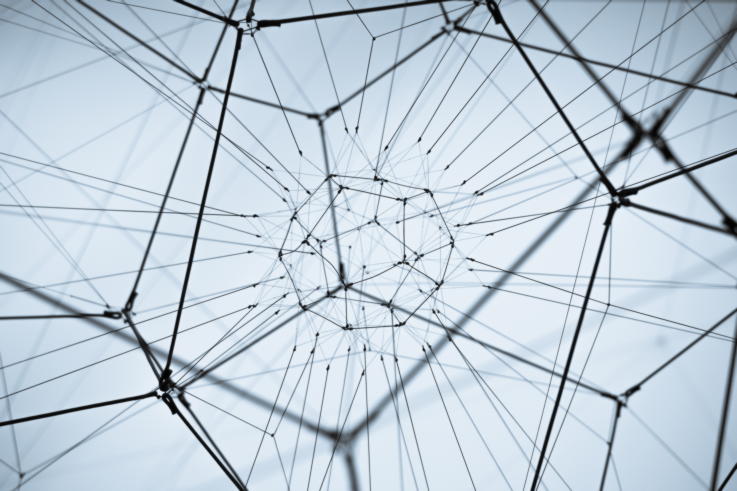 In retail, the 'Internet of Things' (or IoT) is the technology that will drive truly connected, omnichannel experiences. It's the technology that connects a customer's mobile to a store window, a sales assistant's tablet to an e-commerce site, an RFID clothing label to a smart changing room.
IoT is the relationship between harnessing detailed volumes of customer data and being able to create highly nuanced CRM programmes. It's also the technology that's transforming the way retailers locate and track their stock to near 100% accuracy.
Intrigued? Read on for our top 25 examples of IoT retail technology in action.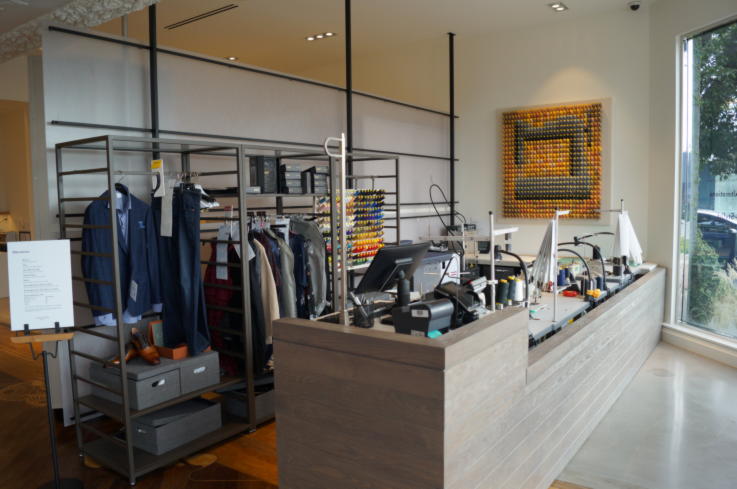 Image Credit: Corinne Ruff
A new offshoot from the American department store mega-brand, Nordstrom Local is a 3000sqft concept store designed as a 'neighbourhood hub' for Los Angelinos. In place of a full stock inventory it has manicure stations, a juice bar, comfortable hangout space and a suite of personal stylists on hand.
Customers call ahead to book an appointment and are invited to build a Pinterest-style inspiration board. This board is then sent to a stylist via mobile who requests an array of matching options from the nearby Nordstrom department store. Each morning, the dressing rooms are set up with the personalised outfits ready for customer appointments. An on-site tailor makes alterations and customers can also pick up their online orders.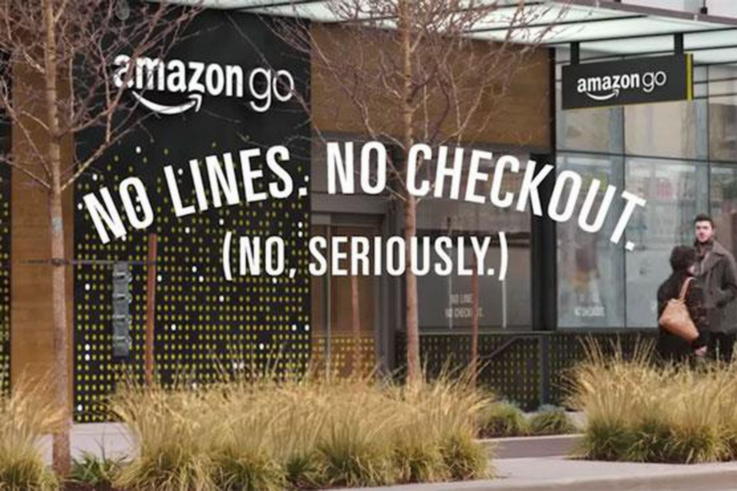 Image courtesy of Amazon
The route-to-buy is becoming ever-shortened. Amazon's physical stores will arguably demonstrate the most frictionless transaction process to date. With Amazon Go, customers (currently employees only) place items in their baskets and simply walk out of the store when they finish 'shopping'.
Tags on the products, in the baskets and at the store entrance are read automatically by the peripheral technology and the customer's Amazon account is charged without the need to queue at the checkout. The electronically tagged merchandise also pledges to be a more effective anti-theft prevention device.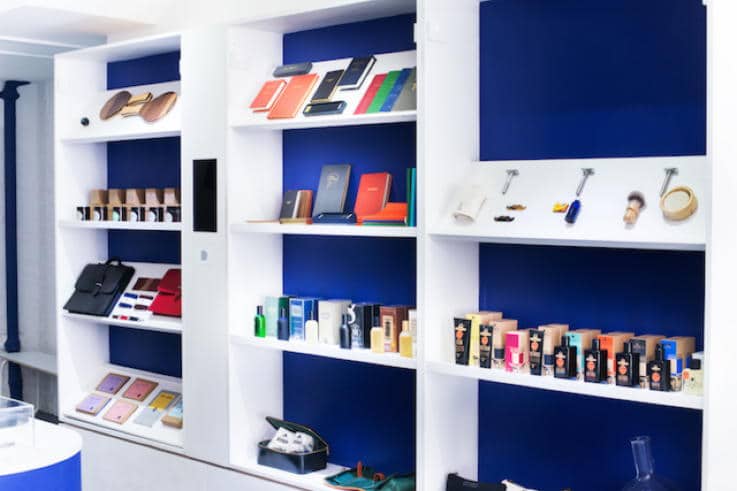 Image courtesy of The Dandy Lab
London start-up, The Dandy Lab, created a pop-up designed to deliver a highly connected consumer journey. The store used sensors, Wi-Fi routers and data analytics from Cisco to connect the dots.
A flat screen connected to an NFC (near field communication) terminal for an instant 'read out'; tablet screens were embedded into shelving; a styling wall was connected to a webcam and a Cisco DX70 video conferencing system enabled customers and staff to communicate directly with product manufacturers and suppliers about designs and alterations.Through Cisco's Connected Mobile Experiences (CMX) analytics package, The Dandy Lab could deduce how many passers-by came into store via Wi-Fi signal.
When Ocado launched its automated packaging service in February 2016, it was the largest of its kind. Using a wireless control system, Ocado has been able to control and co-ordinate the movements of millions of grocery store items and thus accelerate the bagging process when an online order is made.
Over 1,000 robots scan over thousands of crates containing a selection of 47k+ items. It's an insight to the hidden, highly choreographed systems that are working furiously to fulfil our appetite for fast, accurately timed deliveries and points to one of the most impactful uses of IoT technologies.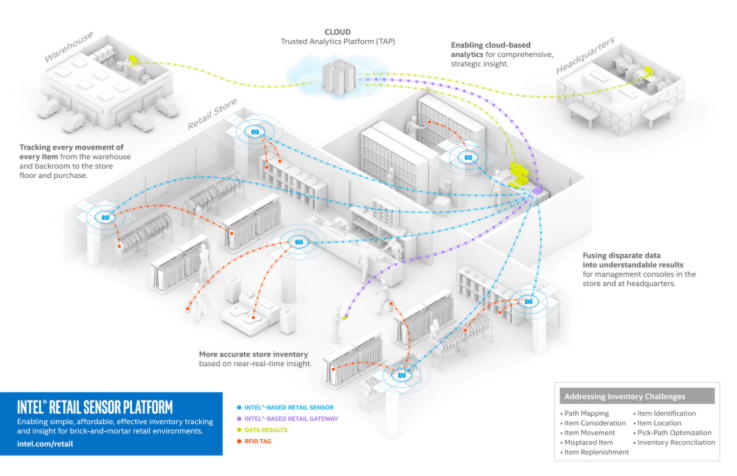 Image courtesy of Intel
5. Intel Retail Sensor Platform
In 2015, Levi's partnered with Intel on a 'proof of concept' exercise aiming to deliver near real-time inventory monitoring in the Levi San Francisco store, a concept now marketed as the 'Intel Retail Sensor Platform'.
A plug-and-play device is installed in-store providing an RFID antenna service, with RFID tags placed on all the items in store. The antenna constantly scans the sales floor, providing an accurate account (close to 100%) of SKU's at any one time. It also provides alerts when stocks are low.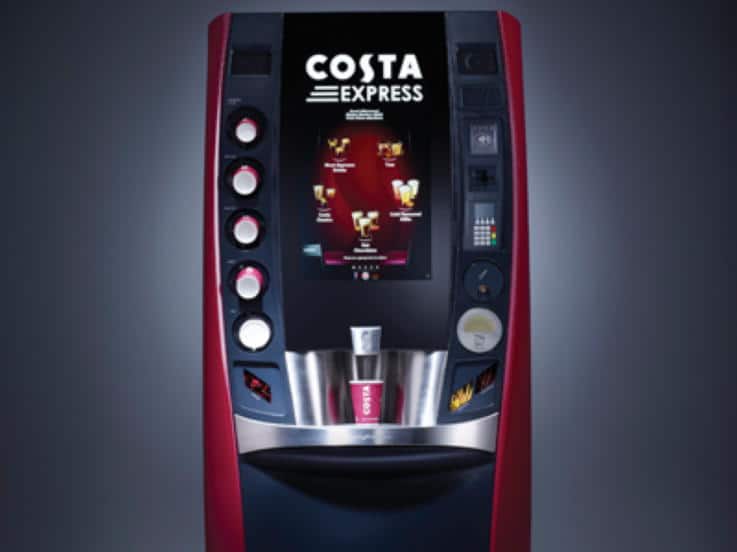 Image courtesy of Costa Coffee
The International Vending Alliance (UVA) partnered with Intel to develop a smart vending machine solution with features such as cashless payments and interactive digital screens for the customer, remote temperature monitoring and loyalty-card connectivity for the vendor.
Costa Coffee has deployed such services across host stores. The machines provide real-time data including notifications on when to re-stock, when to collect cash, and when to address faults. As a result, overstocking losses are mitigated and the customer has a premium coffee vending experience.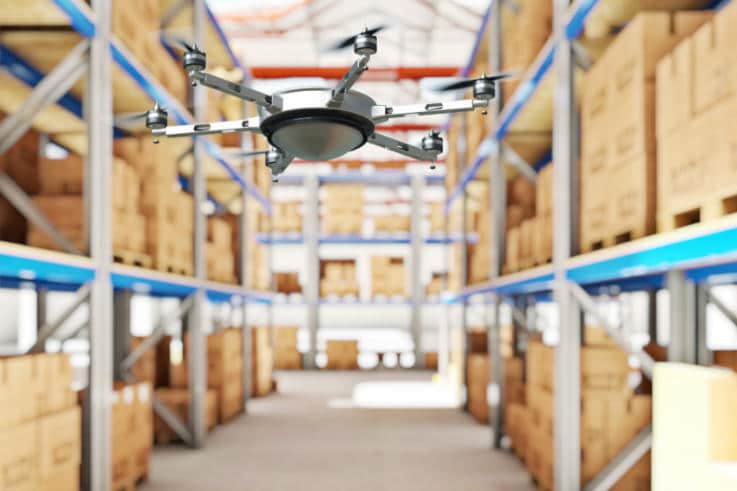 Image courtesy of MIT
Earlier this year, the team at the MIT Media Lab developed RFly, a fleet of drones that are capable of flying around dense warehouse spaces to monitor inventory.Once again, the humble barcode is replaced by RFID tags that speed up identification as they can be detected from tens of metres away with accuracy to the nearest 10 centimetres.
According to a report in Forbes – in 2013, Walmart lost $3 billion in 2013 sales due to out of stock merchandise while its inventory grew at a faster rate than sales – a hint at the transformative power such tracking systems could have.
In the BASF wine store in Germany, shoppers are able to quickly hone in on their taste preferences. They enter their likes and dislikes on tablets when they arrive in-store. The bottles that match those preferences then light up on a digital shelf.
The idea is to take the stress out of having to select from a vast choice, without having to interrogate each bottle in depth. In return for a curated selection, as the bottle is lifted the retailer is also able to track how long the customer spends examining the bottle and subsequently purchasing or replacing the item. The technology was created in partnership with Hybris Labs.
Part experience, part retail upsell tool, the Disney MyMagic+ band has been widely praised as a mass market wearable. The smart MagicBand bracelet pairs with a My Disney Experience App for guests visiting one of the theme parks.
Not only does it include FastPass+ access to rides and key functionality for hotel rooms, it helps make guest spending easy and seamless whether it's selecting dining reservations or setting up 'tabs' in store. It's designed to track guest behaviour to maximise spending.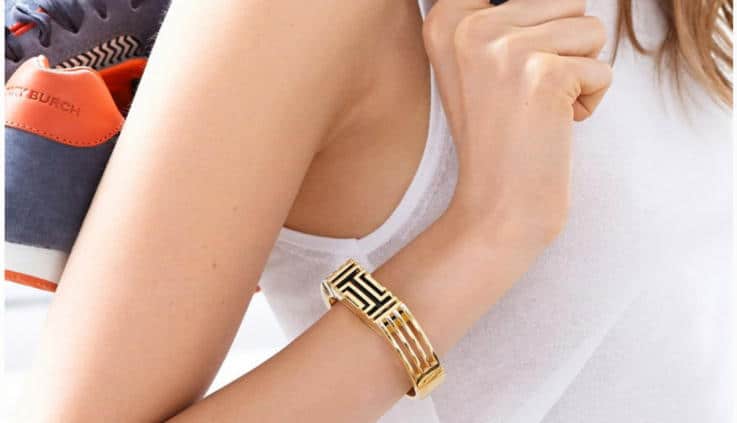 Image courtesy of Tory Burch
We could list many examples of branded 'wearables', but Tory Burch was one of the first in the run of luxury smart bands, partnering with Fitbit to create a chic fitness tracking experience.
For the next phase in the designer smart band movement, we envisage accessories that alert you when you're near a store and send you personalised offers based on your proximity, bespoke to that band.
Lululemon is putting the power of stock inventory management in the customer's hands. Instead of asking an 'educator', aka 'store associate', for help, customers can scan a barcode on the hangtag with the Lululemon app which links directly to the product page on the commerce site.
It then uses RFID to do a real-time inventory check across all the stores, sorted by locations in proximity to the customer. This kind of service is enabled by the confidence in the RFID accuracy.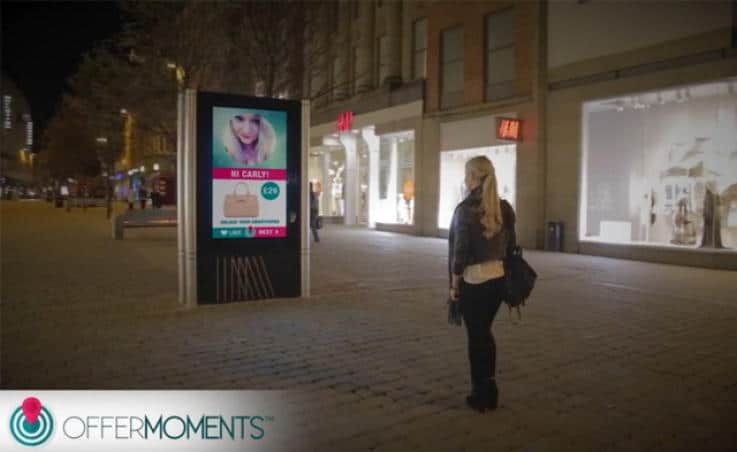 Image courtesy of OfferMoments
OfferMoments has developed dynamic billboards that change as you walk by. They turn digital screens into an interactive experience with adverts customised to you.
For retail this means that the mannequin in your window display could carry a sensor that 'talks' to the smartphones of passersby enabling you to send them a personalised advert or offer. Or it could mean smart digital screens that use facial recognition to identify the customer and change their display to something tailored to them based on customer data.
Starbucks chose to test beacon technology in its home tome of Seattle. The beacons would push notifications on the newest brews in-store, as well as personalised promotions in a bid to persuade customers to convert to the higher costing, 'premium blends' retailed at the coffee shops.
According to RT Insights, the tactic is effective too as 6 million mobile promotion redemptions occur at Starbucks every week.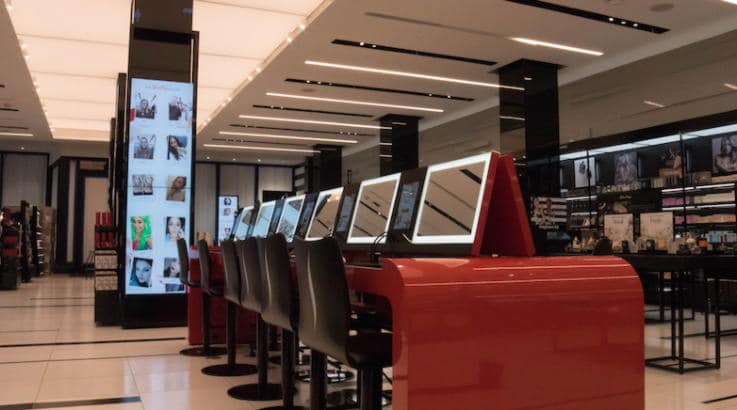 Image courtesy of Sephora
Sephora, widely regarded as a 'best practice' beauty retailer, has its own innovation laboratory dedicated to exploring the integration of digital and physical shopping.
Located in a converted San Francisco Warehouse, the laboratory includes a full-size model of a Sephora store where they have beta tested everything from in-store beacon technology to the Sephora To Go mobile app, Sephora Flash (a kind of 'Amazon Prime') to a video-tutorial led Beauty Workshop station.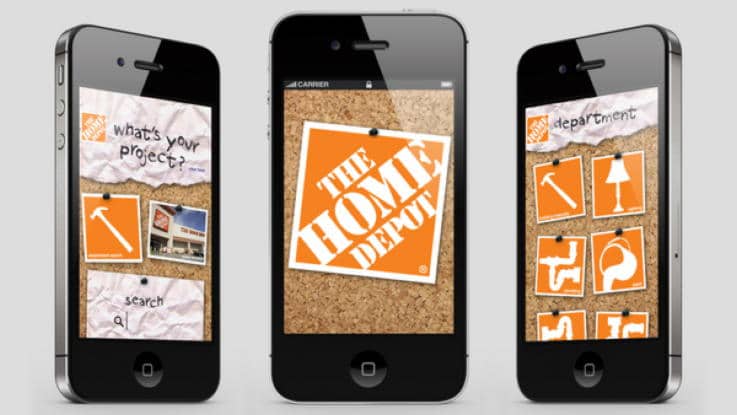 Image courtesy of Home Depot
Home Depot is applying IoT to create a next level customer engagement program via its mobile app. The app invites shoppers to look for items via a 'visual search' function, quickly locate inventory on their arrival in-store, quickly compare similar items, tap into experts surrounding their specific DIY projects and see how items will look inside their own homes.
Over 4,000 beacons are currently installed across 700 Macy's stores as part of a business wide investment in omni-channel retail technologies. As well as a means to push notifications to customers, the technology has been deployed around peak shopping opportunities.
For example, for last year's Black Friday, customers were invited to install an app and play a digital scratch-and-win game in order to unlock $1 million Macy's gift codes and other prizes.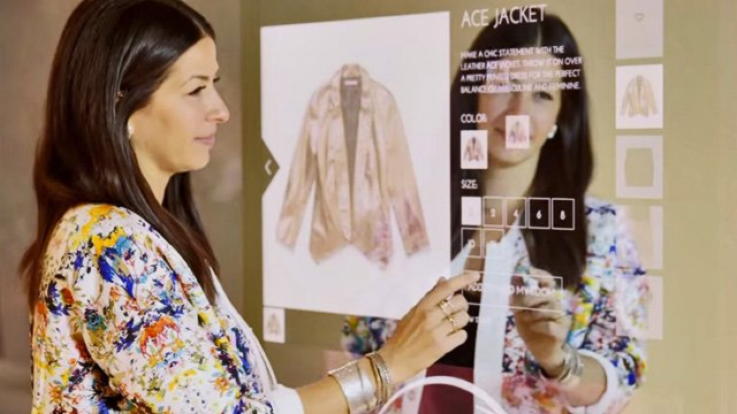 Image courtesy of Rebecca Minkoff
A 'classic' example of IoT in action, Rebecca Minkoff was one of the dressing room innovators with smart mirrors enabled to 'read' information from RFID tags placed on items brought into the cubicles.
The mirrors would convert to screens inviting customers to request new sizes, summon store assistants with ease and even find complementary items to go with the style. In return, the store benefits from 'try vs. buy' data as well as intel on how customers are styling looks.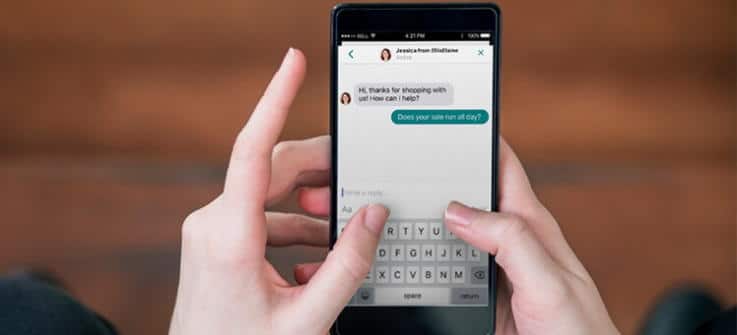 Image courtesy of Intercom
Shopgate, the mobile shopping app developer, has partnered with messaging platform Intercom to devise a retail first – Intercom Live Chat. This new type of communications platform is based on the 'Chatbot' principle but now allows users and store associates to start in-app conversations.
The app taps into an entire customer support team that allows the retailer to see which team members are working with which customer and re-assign staff if required (e.g. to deal with better language capability). It pays into the insight that the customer feels more comfortable speaking to a 'real' person when dealing with customer service.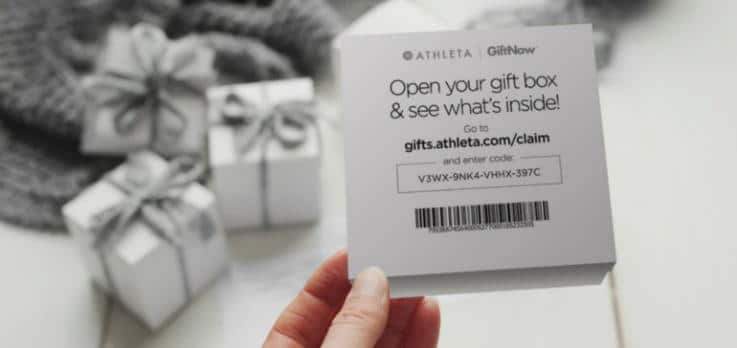 Image courtesy of Athleta
Athleta (part of the Gap family) will be the first retailer to offer GiftNow Cards in its stores. In place of traditional gift vouchers/certificates, the GiftNow concept is an e-gifting service whereby shoppers can buy any product in-store or online as a gift.
The gift-receivers are then able to redeem their GiftNow card online for a specific product, rather than a cash figure. They're given the option to choose their preferred colour and size or even exchange for a different item entirely.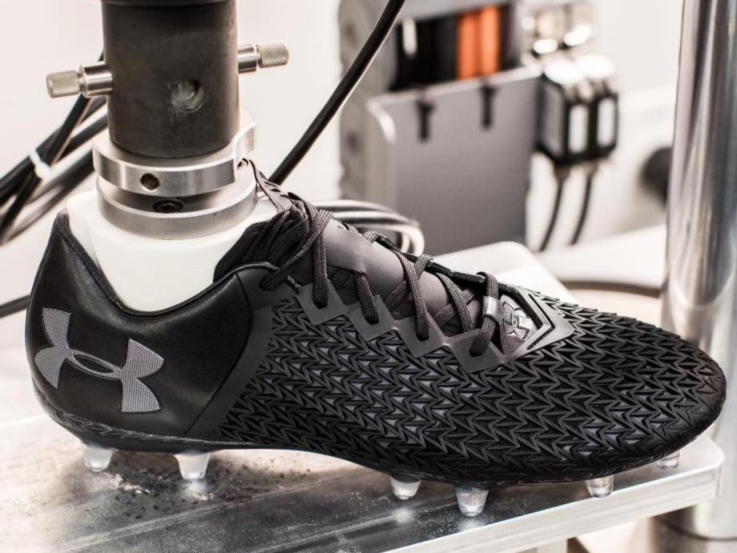 Image courtesy of Under Armour
US sports apparel and accessories company Under Armour is experimenting with big data to create hyper-personalised products for its customers.
One example it is beta-testing is a smart chip that embeds into shoes and connects to one of a number of existing apps – MapMyFitness, MyFitnessPal or Endomondo – to reveal complex data about the way a person runs. This data would then be fed into creating a revised and customised piece of footwear.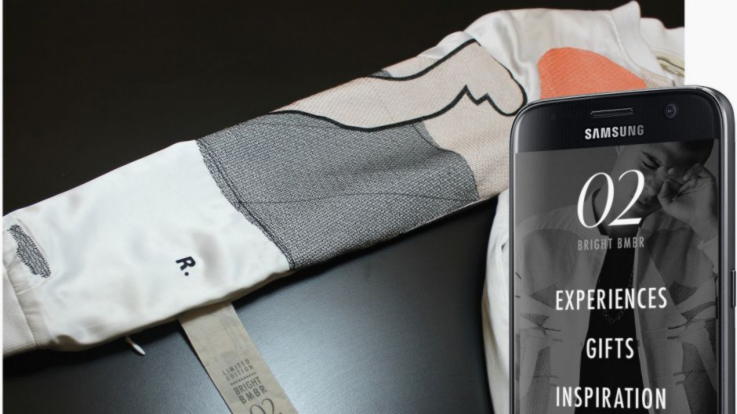 Image courtesy of Avery Dennison
Label-maker Avery Dennison is mapping out a future where your clothing tags double up as VIP passes. They partnered with fashion label Rochambeau and London IoT start-up EVRYTHNG to create Bright BMBR – a bomber jacket embedded with a NFC chip and a personalised QR code.
The jacket would then unlock VIP experiences across New York, personal exhibition tours and club entries. Through this project the partners were imagining not only a connection between online store and offline store, but real-world, lifestyle experiences too.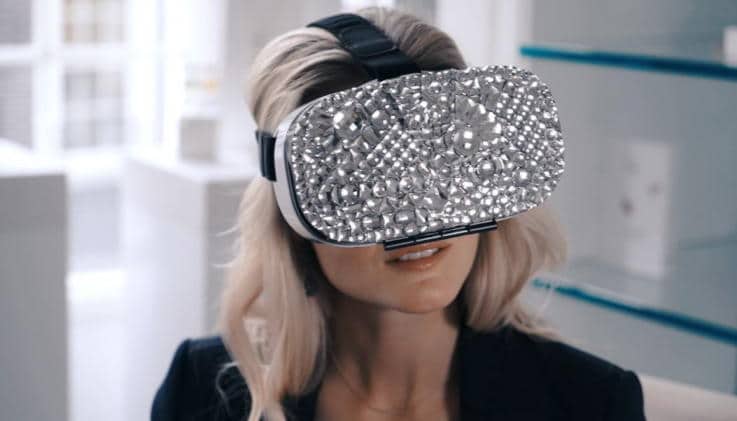 Image courtesy of Mastercard and Swarvoski
MasterCard and Swarovski recently launched a virtual reality shopping experience for the Atelier Swarovski home decor line. The VR app is designed to completely immerse shoppers inside a virtual 'home'.Users log in and begin a secure sign-in session with their Masterpass account credentials – Mastercard's digital payment service.
They are then invited to browse and purchase the pieces directly from the VR experience by moving the headset up and down and 'gazing' to add-to-basket.
The app is also designed to offer a further layer of storytelling with inspiration, designers' journeys and information on the manufacturing process.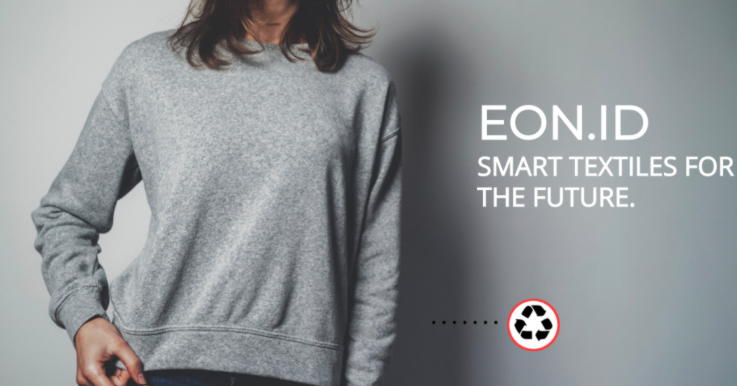 Image courtesy of EON-ID
EON-ID describes itself as the first 'intrinsically incorporated' RFID system. EON-ID thread™ woven into textiles connects products directly to the IoT.
As well as enabling a 360-degree customer experience across all channels, the raison d'être at the heart of the innovation is to improve the efficiency of the supply chain and 'next life' tactics, whether it be sale, donation or recycling.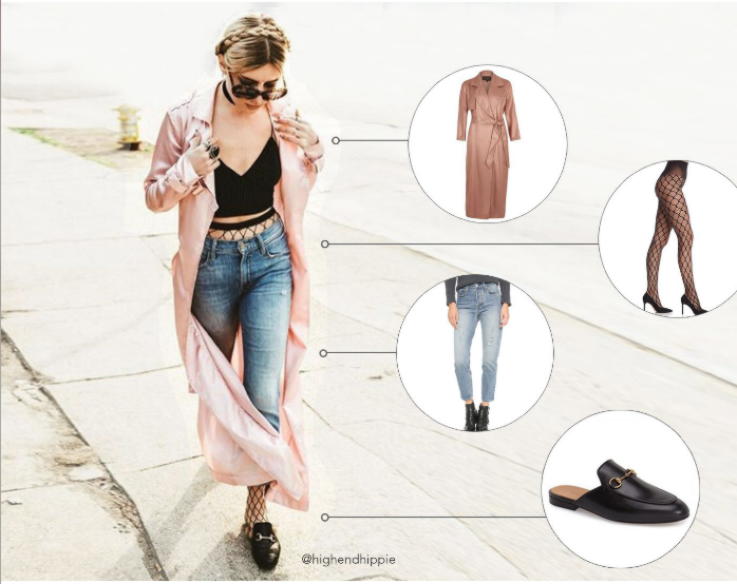 Image courtesy of Bllush
Bllush is designed to inspire e-commerce shoppers with shoppable, authentic content. The star feature of the service is 'Story', a programme that provides current stories about fashion, trends, how-to guides and news coverage which are then shoppable with links to purchase similar items from your own store.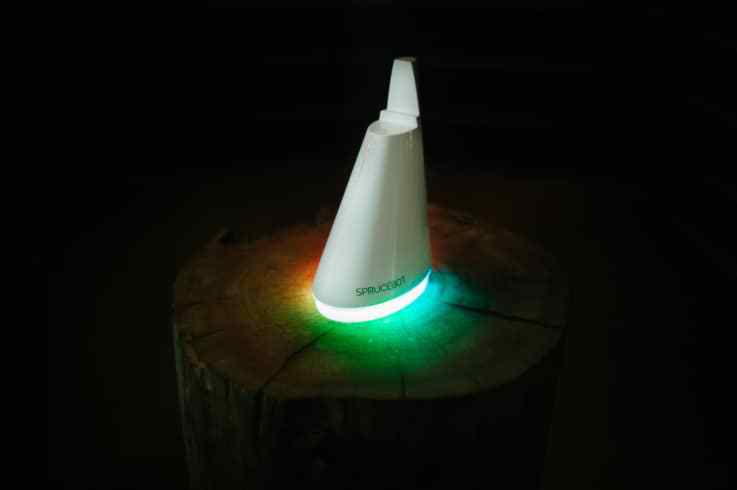 Image courtesy of Sprucebot
Created by Spruce, the barber-shop/style consultancy/boutique, Sprucebot is a cloud-based digital assistant that actually helps run the store. The technology is built into every part of the business, from helping customers book appointments in a chatbot-like function, to enabling customers to pay by simply walking out of the store Uber-style.
The key function is to support the sales staff by giving them access to each customer's profile and prompting them to update it after each visit. This makes it possible to offer a much more personal experience.