Concept Stores
Bright future: Lights of Soho sheds light on its multi-purpose space model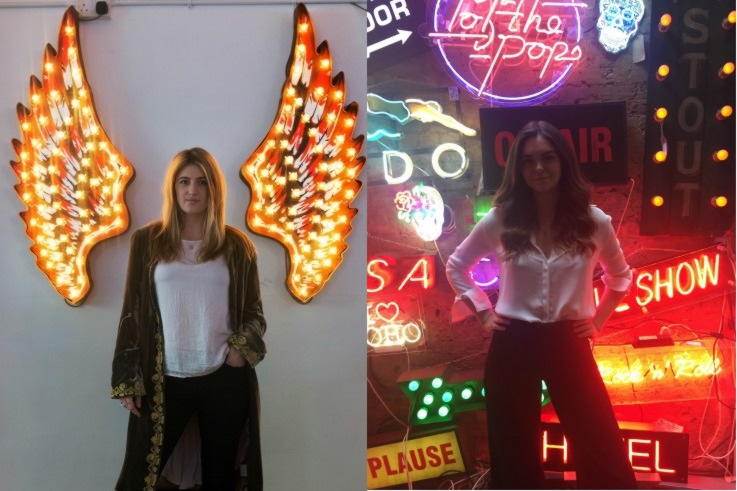 It's a thriving specialist retail space, art gallery and private member's club. With its focus on light art, Lights of Soho is somewhat unique among London's retail offerings, while the multi-purpose nature of its space has given rise to a model that blends art appreciation with creation.

We spoke to Alexa Pearson, Exhibitions Co-ordinator and Amy Harte, Head of Events to find out the drivers behind the space, how the member's club influences sales and the trends shaping art buying…


Can you explain what Lights of Soho is and why it's different and special?
Lights of Soho is London's leading light-art gallery, specialising in all light-art formats from neon to lightboxes to LED. The gallery was one of the first of its kind in the UK, and continues to pioneer light as a striking and innovative medium. Lights of Soho aims to champion emerging artists, and provide a space where those working in the creative industries can meet and network. It is also a Private Member's Club, which offers exclusive entry to members after 6pm.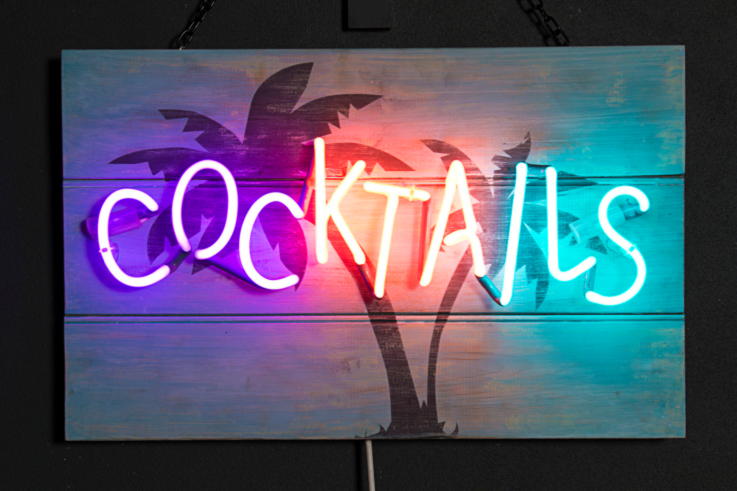 Can you tell us the story of its development and the ideas that inspired the space?
Lights of Soho was created to provide a diverse, multi-purpose space for those working in the creative industries. As it can be difficult for young creatives to meet and network, Lights of Soho provides an accessible space for meetings, coffees and catch-ups. Soho is also famed for its fondness for neon, and the gallery has established a pioneering collection of light-art – working with talented artists from the world over.


How do you pick the pieces that are on display? How regularly do the exhibitions change? Is all of the art in the gallery for sale?
All of Lights of Soho's shows are carefully curated by Art Director Hamish Jenkinson, Exhibitions Producer Alexa Pearson and external curators brought on board – past curators have included Robert Montgomery, Lee Sharrock and Mark Westall. The shows change every 4 – 6 weeks and all of the artworks are for sale.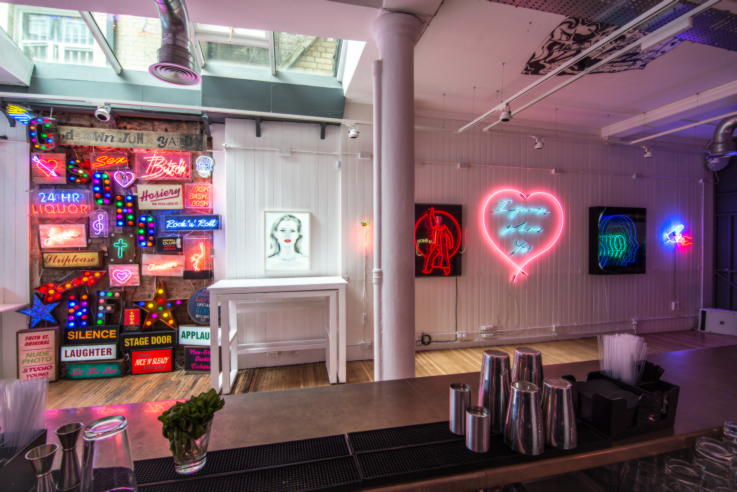 The value of membership
You're a members' bar as well as a gallery. Why did you decide to combine these elements?
We find the two complement each other really well, and works brilliantly. Our memberships come mainly from the gallery element, as that's what gives us a unique edge and separates us from other local members clubs. We were a gallery space originally, when we opened with our now annual God's Own Junkyard show. Following on from this we became a permanent gallery with a member's licence for after hours; which is how we became this wonderful hybrid.


What are the benefits of becoming a member?
There are numerous benefits for our members, aside from exclusive entry after 6pm. We offer a 5% discount on the artwork, along with invitations to the Private Views for each show. We put on a number of events specifically for our members, from live music evenings to Voga (voguing and yoga) sessions.


How many times a month do members tend to visit?
Most members come 2/3 times a month; a fair few are in numerous times a week. We have a handful of members who are down at the gallery most days; we see our members as an extension of the Lights of Soho family.


Of the art pieces you sell, what percentage are sold to members?
I would say that 40% of our members buy the artworks in the venue. We also offer complimentary memberships to those that purchase artworks over £2000.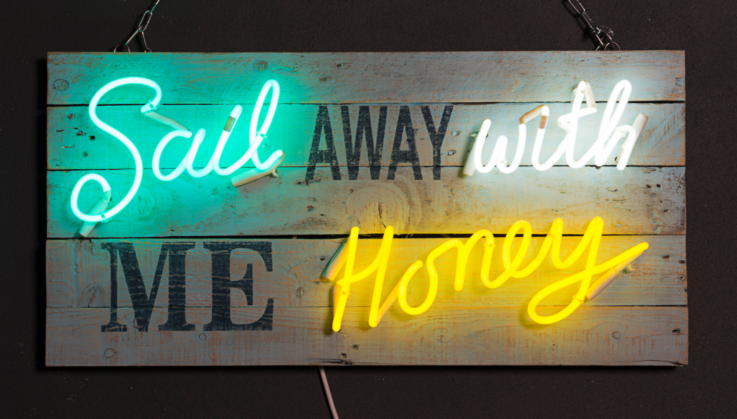 Flexible space for different interactions
I understand you also host events – can you tell me more about those? How do they complement your core business?
The event side of the gallery is key, as it works well in bringing new faces down to the space and helps to expand our membership database. As we are still relatively young as a venue, the events we host here give us great exposure as well as giving us the opportunity to be part of some incredibly interesting work! We host a huge range of events here which means we're constantly doing something new and different. It keeps us on our toes, but makes gallery life always interesting!


Can you tell me more about the relationship between the gallery and the online store? Is there a higher percentage of sales from one or the other?
The online store is a reflection of the roster of artists that we represent and the works that we sell. Most of the works would have been in a previous exhibition in the gallery. We have a higher percentage of sales through the gallery, but our online sales are most definitely on the rise.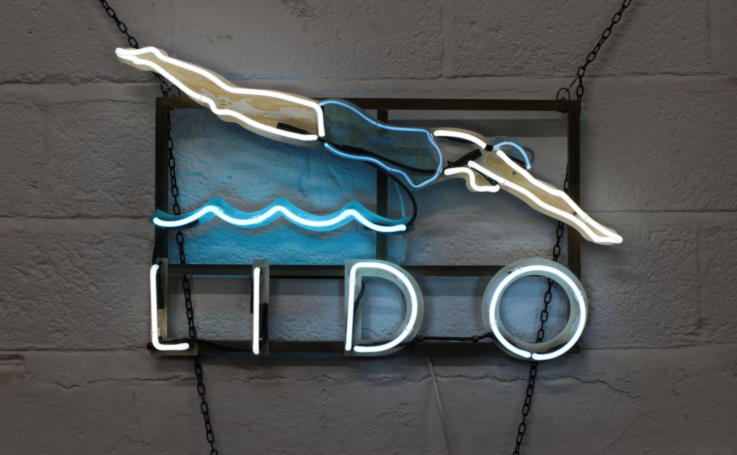 What are the most important trends shaping the future of art buying?
A lot of clients are looking to commission neon artworks, which is interesting as the buyer is positioning themselves within the role of an artist. One of our biggest selling artists is Lauren Baker who produces neon artwork in her handwriting, which includes phrases such as 'I love you to the moon and back' and 'you blow my mind'. These simple, but sentimental pieces are warming the hearts of our art buyers internationally.


What is next for Lights of Soho? Are further developments planned?
We have an extensive range of events and art shows scheduled for the foreseeable future, all of which are very exciting and will provide a great deal of diversity for the venue. We were delighted to welcome back God's Own Junkyard for the month of December, which saw one of the most extensive collections of neon artwork in the world housed in Lights of Soho. In early 2017, we are hosting shows by Anna Laurini and Papi. We also look forward to creating and hosting amazing events and partnerships with a variety of high-end, luxury brands.


To experience the very best of London's retail for yourself, book one of our Insider Trends retail safaris. Find out how they can benefit your business here.