Tech
How has the smartphone transformed the way we shop?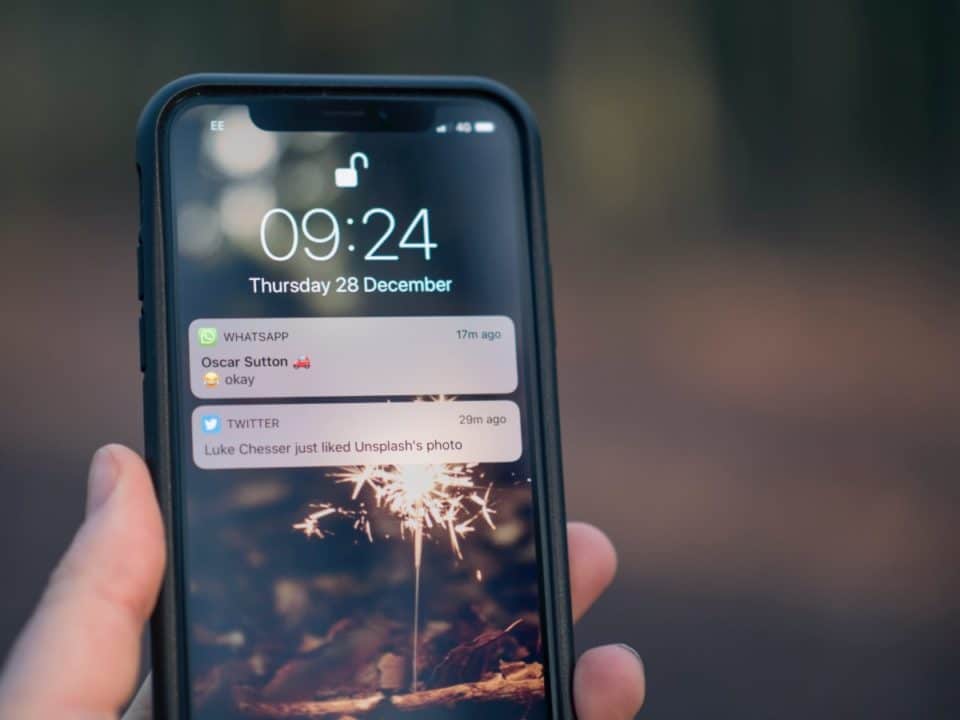 We all know the answer to this one, don't we? The smartphone has dramatically changed the way we buy because it gives us the means to press that pay button anywhere.
Ecommerce already did that though, right? The internet opened up the world of shopping like never before letting us buy from pretty much any brand anywhere in the world, all from the comfort of our own home. But while the store may be fixed in one location, so at ecommerce's start was our home computer.
Then along came laptops, and then the iPad and other tablets, which opened up more portable computing. Still though, the size and weight of these devices, and the requirement for a Wi-Fi connection, means we don't always have them with us.
The smartphone though has become an extension of ourselves. It goes pretty much wherever we do. There are probably three things most of us leave the house with every day – keys, wallet or purse and our phone. And, thanks to mobile payments, actually we can increasingly do without the wallet.
The smartphone lets us shop on the run like never before. Inspired by an outfit on social media? Buy wherever you are. Seen an ad on a billboard? Look up the product and buy wherever you are. Need to order some food for when you get home? Do it wherever you are.
Want an item right away if possible? Services like NearSt and its Google tie-up mean that you can easily check whether an item is in stock at a store near you, reserve and pay, and pop in to collect. In a store? Find out more about the product before you buy by looking up reviews online.
It doesn't end there. Brands and retailers are increasingly taking advantage of the fact that we all have these super-computers in our pockets. They're creating buying experiences that weave the smartphone in, or hinge upon it, in order to better serve customers.
Here's our pick of the best ways that the smartphone is driving new retail experiences:
All about the app
One of the things that has gone hand-in-hand with our adoption of the smartphone is the growth in apps. There's now pretty much an app for everything, and that includes retailing.
Let's start with an oldie but a goodie. Starbucks has been working the smartphone into its physical retail experiences for longer than most. Its Mobile Order & Pay app lets customers place their food and drinks order before they get to the store, so it's ready for them to pick-up when they walk in the door.
Most Starbucks stores now have dedicated pick-up stations to make the process as speedy as possible.
Initially for Reward members only, Starbucks has opened up the service to everyone. It's also continuing to build on it as it sees mobile ordering as key to its future growth. Just last week the company opened its first ever express Starbucks Now store, which is focused on pick-up and delivery services.
Located in Beijing, China, the store has a dedicated pick-up area for delivery drivers. Drivers are directed to a specific portal to collect their order. The store also acts as a delivery hub for other Starbucks stores so that those spaces can concentrate on their walk-in customers.
Customers can also pick-up their mobile orders in the space, or walk in and order as usual if desired. The app is critical when it comes to providing the sort of fast service that customers who are buying coffee before or during work hours want.
Taking this one step further, Luckin Coffee's retail experience revolves entirely around the smartphone. The coffee upstart has gained a massive foothold in its native China where it plans to have over 4,500 stores by the end of 2019. Customers have to download the Luckin Coffee app in order to use its spaces.
All orders and payments are done from the customer's mobile phone. Customers who place their order in advance get an alert when it is ready to collect, which means no time is wasted waiting in the store.
They can also use the app to order coffee for delivery if desired. Because everything is done through the app, Luckin is able to consistently target users with promotions and other deals that keep them coming back.
Apps can also be used to enhance other forms of customer communication. Luxury ecommerce company Net-A-Porter uses its app to add an interactive element to its print magazine, Porter.
Customers can use it to scan the pages to buy the products they see, watch videos or access more information. Ads can also be scanned to direct you to the website of that brand.
Net-A-Porter has reported that a massive 78% of Porter readers also scan the magazine. This means that rather than being a gimmick, the interactive elements are actually adding value. It also shows the power of the smartphone in helping every touchpoint become shoppable.
Other retailers are using the smartphone app to help us shop better for items that have certain fit, or style, requirements. Notably, everyone from IKEA to Wayfair is using AR to help customers visualise what a piece of furniture might look like in their home before they buy. Whether you shop online or in-store, it's not always easy to picture whether an item might work in your home, or if it will even fit. These AR-powered apps mean you can virtually 'live with' the piece before you commit.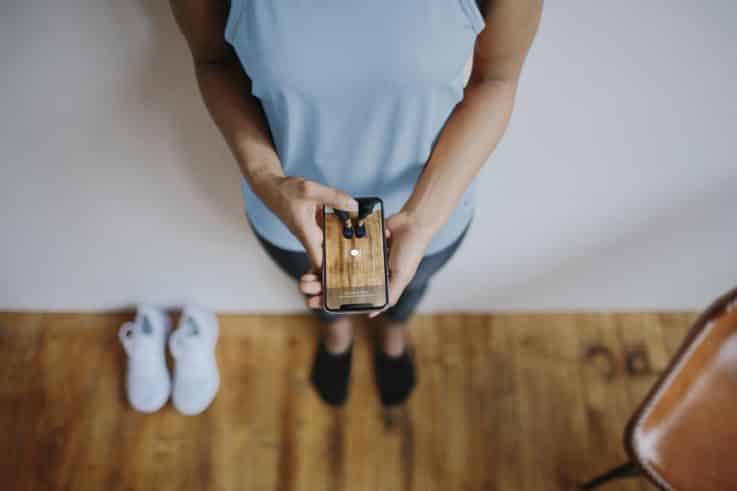 Image credit: Nike
Meanwhile, Nike has launched Nike Fit, a smartphone-based foot scanning solution that lets customers check their shoe size before they buy. When choosing a pair of shoes, customers are encouraged to use the app to scan their feet with their smartphone camera to get an accurate, personalised size recommendation. Given that shoes not fitting properly is one of the main reasons for online returns, the app aims to help both the brand and the customer.
Gucci's approach is less about fit and more about decision-making. It launched an AR-powered app that let customers see what its Ace sneakers collection would look like on their feet. The virtual try-on service used AR to project the sneaker style of their choice onto their feet. The app gives the online customer the same try-before-you-buy experience as those who might shop in-store.
It's a similar approach to the rise in AR-based apps that let customers try out different colours and styles of make-up before they buy. For the online shopper it's a way of testing what something will actually look like on their skin, while for the in-store shopper it's a faster and mess-free way to check different shades out. These apps all help to empower the customer in their decision-making in ways like never before, which hopefully leads to more sales overall.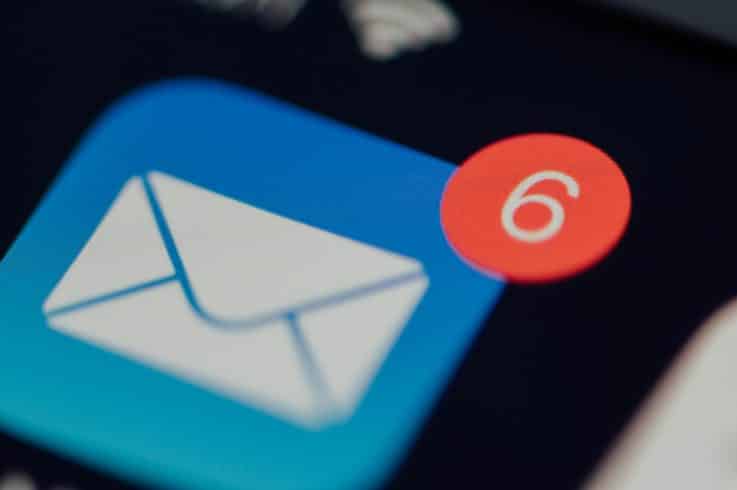 Text services
In today's smartphone world of messaging apps, the humble SMS message seems quaint almost. What it is though is functional. There's no need to open an app or log-in or have an internet connection.
As long as you have phone signal, you're good to go, and every phone type supports it. And we all know how to do it, which makes it convenient and easy.
This has led to a number of retailers using SMS messaging to provide new types of services. Wellness drinks brand Dirty Lemon is the leader in this area. It only takes orders via text – even if you go to its website.
Once a customer has registered their details, they can simply text the company to order more drinks. Their payment details are linked to their account, so they don't even have to type them in each time.
Using SMS messaging to sell lets Dirty Lemon forge closer connections with its customers. It means that it can be on hand 24 hours a day to answer questions – whether that's about what's in a product or where the customer's order is.
The quick response times (compared to hours or days for an email reply) empower customers to buy by not giving them an opportunity to sit on and reconsider their purchase.
Dirty Lemon has expanded its text-to-buy service to also cover its own cashier-less store in New York. Customers who walk in and want to buy a drink follow the same process of texting the company to say what they're taking and pay for it.
The system is hugely reliant on honesty, but Dirty Lemon is willing to bear any theft that occurs as it views the store as a marketing channel.
Walmart is also exploring text-to-order services with its Jetblack concierge. This personal shopping service is aimed at busy, urban parents who are time-pressed, but also want the support of a staff member.
Jetblack costs $50 a month with members able to text requests or things they need and receive product suggestions. These may be from Walmart but can also be from other retailers.
Recently, Walmart revealed that a year on from its New York launch, two-thirds of Jetblack users engage with it every week and spend on average $1500 each month on its recommendations. Clearly, the service fits in well with the lifestyle of its target audience.
A new addition to SMS services is Lamps Plus. Customers can now text any of its 37 stores during opening hours to interact directly with the store or assistant manager to find out more about a particular product. They can check the size, colour and other features, as well as if it's available in their local store. Customers can even send photos of their own home for recommendations. If they like what they see they can use the SMS service to reserve the item for in-store collection.
Lamps Plus has been developing the function since December 2018 and says that it now gets thousands of texts from customers each week, although interestingly the number of calls to store has stayed the same.
Texting offers several benefits over calling such as the ability to see images and video relating to the product. Customers can also follow up with other questions as they come to mind without having to call back.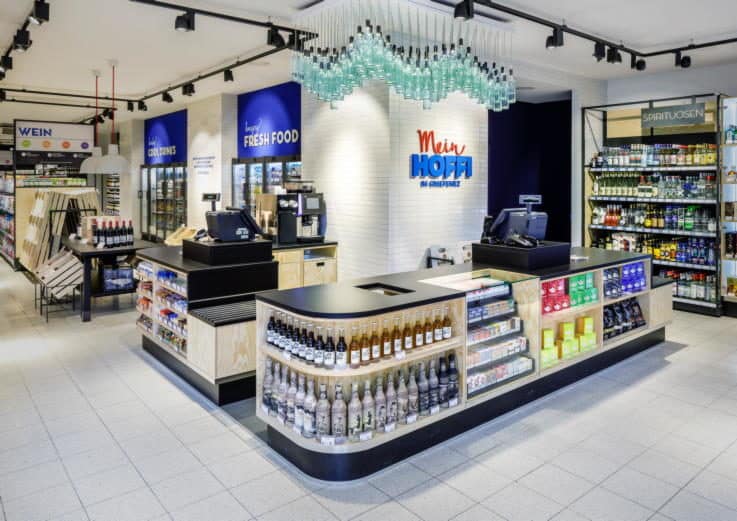 Mein Hoffi Image credit – Guido Leifhelm
In a slightly updated twist on SMS messaging, the Mein Hoffi convenience store in Germany lets you WhatsApp ahead of time to order drinks and request for them to be chilled. A rapid cooler system can chill a bottle of prosecco in as little as five minutes. Customers can be walking towards the store and know that when they get in their drinks will be cold and ready to go.
Location location
The fact that our smartphones go everywhere with us has opened a new market for location-triggered buying experiences.
Take The Burger Laboratory in Seoul. Like a number of food-based services, you can order in advance from your phone and go in store to pick up. The cool thing is that the store then geotracks you, so it knows when you're nearing the store, and therefore, when to work on your burger so it's ready for when you arrive.
If you stop, or detour, on your way to the store, it will pause the preparation until you start approaching the store again. This means that customers always get the freshest possible meal.
Sears' mobile-driven pick-up service lets customers have their online orders brought to their car. When buying online customers can choose in-vehicle pickup as an option. They input their vehicle details and then sign into the Shop Your Way mobile app to turn on location settings.
Once they get to the store, the customer parks in one of the served mobile-pick-up spots and uses the app to check-in. A store assistant will then bring out the purchase, verify the item and put it in the car in under five minutes. The app even has a handy countdown timer, so you know exactly how long it took.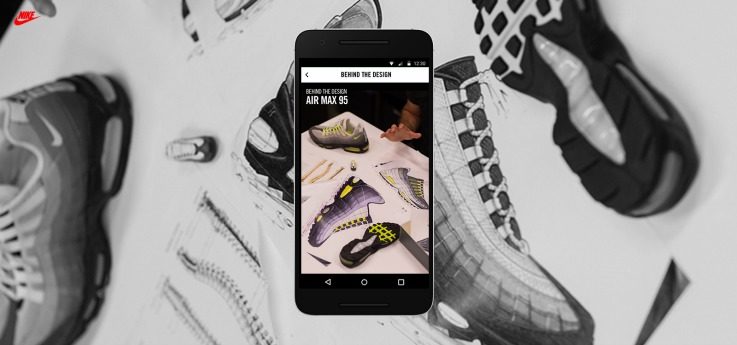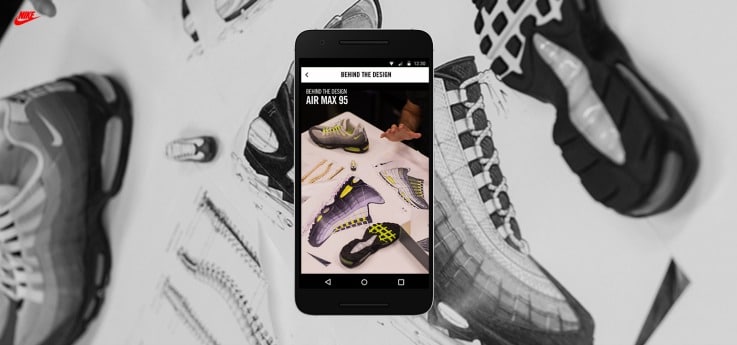 Smartphones can also be used to turn locations outside of the store into buying opportunities. Rather than being limited by the restrictions of where you can physically put a store or pop-up, smartphones let retailers put a store anywhere.
Take Nike's SNKRS app, for example, allows it to tie product drops to certain locations. Last year, it used the app to drop its limited-edition collaboration with Kendrick Lamar at one of his concerts. Customers in the audience who has the SNKRS app were able to reserve and pay for a pair. Although there were some teething problems, it shows that there's plenty of potential for the smartphone to drive buying experiences in public places.
Nike has already experimented significantly in this area with other SNKRS drops that used augmented reality and geo-targeting to send customers on a scavenger hunt. Customers who went to a specific location or took a photo of a specific image could then access the special edition sneakers.
What's cool is that the method for notifying customers of the drops and for accessing them is the same. It's all done through the app. And as the app is on the smartphone, which goes everywhere with the customer the skies the limit as to which locations could be utilised.
Havaianas has recently tapped into smartphone-enabled storefronts with its one-day virtual pop-up in Venice Beach. The brand worked with street artists Buff Monster to create a colourful tropical art mural which was shoppable via a smartphone.
Customers could scan the mural to be directed to a pair of sandals that matched the colour of the part they'd scanned. They could also access styling tips from celebrity wardrobe stylist Tara Swennen. It's a fairly simple, but effective example of how you can put a shoppable experience anywhere in the world.
7-Eleven is also bringing the store to wherever customers are with its new 7NOW Pins service. Customers using the 7NOW delivery app on their phone can now choose to have their purchases delivered to public locations such as parks, beaches, sports fields and venues. 7-Eleven has enabled thousands of these locations as 7NOW Pins.
To buy, customers just open the 7NOW app, which will identify their location and show the nearest 7NOW Pins to them. Once the order is placed, a courier will bring it to that location in 30 minutes or less. There's no minimum order requirement (although delivery charges will apply) and the service runs 24/7. It's a great example of how our smartphones can turn everywhere we go into a shoppable space.
Or how about using your location to design the product itself? Coded Couture is a partner project between Google and online fashion company Ivyrevel. Its first product is the Data Dress, which uses the buyer's smartphone to create a custom design based on their lifestyle. Customers start by downloading the Coded Couture app, choosing whether they want a business, party or gala dress, and selecting a style.
The app will then track their activities over the next seven days to inform the design. For example, your morning run might be interpreted as a pattern on the dress. If you live somewhere with a hot or cold climate then the choice of fabric might reflect that. If you visit a fancy restaurant or go out dancing, then that might be interpreted in more blingy design details. The resulting dress is a map of your life that week.
Customers can check in on the progress of the dress throughout the week and edit details of the final design if they don't like them. There also is no obligation to buy the finished piece. The project is an interesting look at how our smartphones can be used to not only impact the way we buy, but the products as well. With personalisation a growing trend, and the fact that our smartphones know so much about us, we may see location playing a bigger role in the future.
In the store
One of the most well-established ways that smartphones are changing how we buy is in the store itself. From self-serving to accessing more information to additional services, the smartphone is massively boosting the capabilities of a store.
One of the best examples is Nike's House of Innovation 000 in New York. The space was specifically designed to work with the Nike app, which serves as a customer portal for added-value services.
For example, customers can use the app to scan and pay for their purchases without the need to wait in line at the checkout. They can also use it to scan the QR code on any mannequin to see the outfit it is wearing. They can check sizes and colours or order the items to a fitting room to try on.
Scanning a product barcode will bring up more info on the product, including if it's in-stock in the store. They can request to try on the product, either collecting it from a pick-up area or having it sent to a fitting room. There's also an array of other useful concierge services and rewards available.
The company experimented with a number of these services in its hyper-local Nike by Melrose space in LA. The House of Innovation goes deeper though. The store has been built with the app in mind and this means that more functionality can be added over time. Given that the smartphone is unlikely to go away anytime in the near future, but will only get smarter and incorporate new features, this is a smart way to be able to update the store experience without Nike having to keep changing in-store hardware.
Walmart-owned Sam's Club is also making the smartphone the focus of its new Dallas retail concept – Sam's Club Now. This pilot space requires customers to download the Scan & Go app to use it as there are no cashiers in the space. Customers must use the app to scan items as they shop and then pay from their phone.
The app also offers up various other functionality. This includes auto-filling shopping lists for customers based on machine learning and past purchase data. Once an item is scanned by the app it is removed from the smart shopping list. Customers can also manually add and remove items from the list.
The app is also used to help customers navigate the store by letting them voice search for the item they want. A map will then appear showing them how to get to that item. In the future, Sam's plans to use beacon technology to guide customers round the store based on their smart shopping list.
Sam's views the new club space as a technology lab where it can test and refine technologies that it might then roll out elsewhere. It's interesting then that so much of its initial offering is based around the customer's smartphone. Clearly, it sees the smartphone as a key means to enhance the in-store shopping experience.
Over in China, industry giants JD and Alibaba agree. They both make use of customer smartphones to offer a better customer experience in their grocery stores.
With JD's 7FRESH concept, customers can find out more information about produce by scanning the product barcode with their phone. They can then see everything from the sugar content to the farm it came from on a screen above them. Given that fresh produce makes up about 70% of the product offering in a 7FRESH store, this functionality helps customers differentiate. The app is also used to scan products and make payments when you're done.
Alibaba's Freshippo (Hema) supermarket concept also relies on its app. In the same way as 7FRESH, customers must download the app to shop the space, using it to scan and pay for items. They can also use it to scan the QR code of products to find out more about where they came from, nutritional content and even recipes. With fresh food, they can see all of the tracking information about its journey to the store as well.
The smartphone as a payment method is already well embedded in Chinese culture. Both of these companies are building on that familiarity to offer more to customers. Rather than trying to provide information in a fixed way in-store, by using the customer's smartphone the companies can share far more. It's also much easier to update and can be done in a centralised fashion, rather than store-by-store.
In recognition of the fact that customers often use their smartphone to look up more info about a product, American Apparel has built this capability into its app. Customers can scan the in-store signage and display images to bring up all of the details about a product. This includes price, customer reviews, videos and colour options. It shows how a customer's smartphone can be leveraged to help them make decisions when buying in-store, especially if there isn't a member of staff around to assist with questions.
While we've seen a number of initiatives recently that use a smartphone app to let customers self-checkout, Stance has a solution that doesn't even need the app. It has partnered with Moltin to create the browser-based self-checkout option. Stance customers simply open a short URL on their smartphone and then scan the barcodes of the products they want to buy before paying.
By removing the need to download an app, Stance has removed a barrier in the self-checkout process. This is especially notable because if self-checkout services catch on, we won't want to be downloading a separate app for every single retailer. A browser-based solution like this one could help speed up adoption.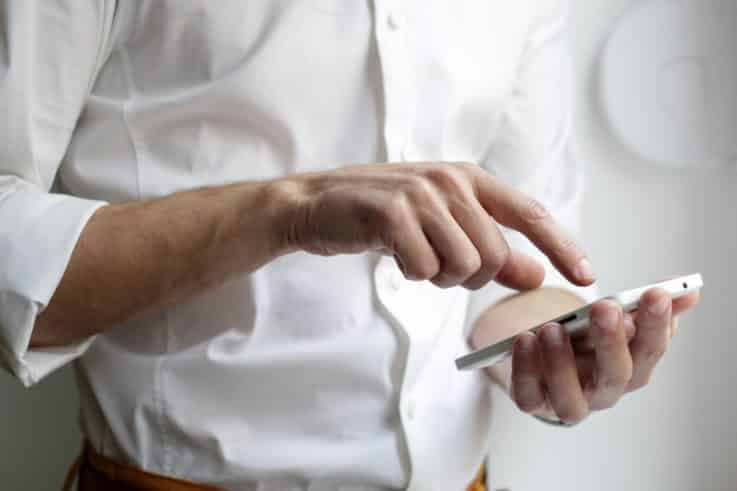 Is smartphone-driven retail the future?
Think back to the first mobile phones for a moment. Now think how far we've come in terms of smartphone technology. What the future holds is unclear right now, but it's fairly safe to assume that the smartphone will be sticking around for some time now – and even evolving into something else.
Technology is also constantly improving which means that the smartphone your customer has in their pocket gets better and better with each upgrade. Seeing how most of us upgrade our phone faster than a retailer might overhaul their own hardware it makes sense to tap into that tech where possible.
Smartphone-driven retail experiences are likely to only increase. Whether it's communicating with a store in advance or a space that uses the smartphone to activate services and experiences, our phones are going to make for smarter retailing.
It's not just about the store though. The smartphone doesn't require a store to offer a buying or product experience. In fact, its portability and the fact that we rarely leave home without it, are going to be key factors in the move towards retailing everywhere. If barriers are going to be broken down and lines blurred, then the smartphone is going to be one of the means of disruption. Are you prepared?