London
Inside M&M's World London: how the store builds the brand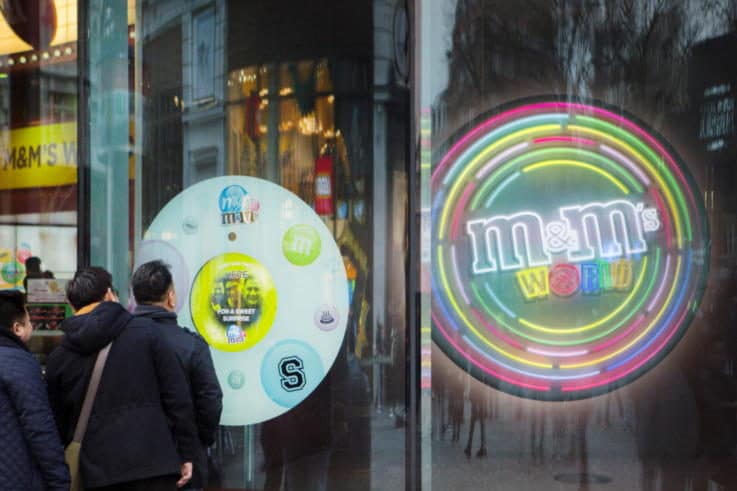 There are few people that haven't heard the Mars name. And it's doubtful that there's anyone who hasn't heard of at least one of its many top brands spanning confectionery, food and petcare. Among the best known of these is M&M's. As well as being sold in stores and supermarkets across the world, the brand operates five dedicated M&M's World Stores that offer a truly immersive brand experience.
The play a major marketing role with M&M's World London generating an impressive 167 million brand impressions in 2016. They also have a retail function with 13% of all M&M's sold in the UK sold through the store.
We spoke to Patrick McIntyre, Director of Global Retail at Mars, to find out more about the M&M's brand strategy, the role of the stores and how these translate into sales, and giving customers what they want.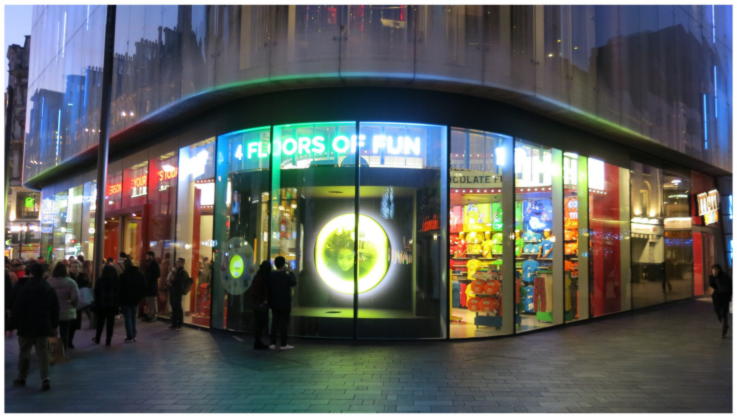 How does M&M's World support the M&M's brand?
M&M's are classically sold in the mass market. You're out shopping for your family, and you buy a selection of treats to bring home. That's one experience, but it's a very flat experience, right?
Where brands come to life is advertising either in a TV commercial, in a print ad, or in some interaction that a consumer has with the brand. That's a snapshot in time. It's one moment and then it's over, and then you're on to the next thing. I think many brands, and us in particular, realised a long time ago is the impact of being able to amplify those brand attributes in an experience where someone can actually be immersed fully within that brand. That's what we started 20 years ago with our first M&M's World Store in Las Vegas – a very famous tourist location. We created a four-floor 28,000-square foot store that was completely and totally dedicated to M&M's.
The Leicester Square store is the world's largest chocolate store. It is probably the closest in terms of truly amplifying the M&M's brand in a completely immersive way – from standing outside in Leicester Square all the way through those four floors, having big, bold, playful and completely unexpected moments with our brand. While it is a retail space and it does make money, it is truly there to amplify what it is to be an M&M.
How many visitors does the London store get each year?
Last year, it was 5.3 million. This year over the Easter break we had a record 33,000 people walk through the store on the Saturday. That's a tremendous amount of people through 36,000 square feet.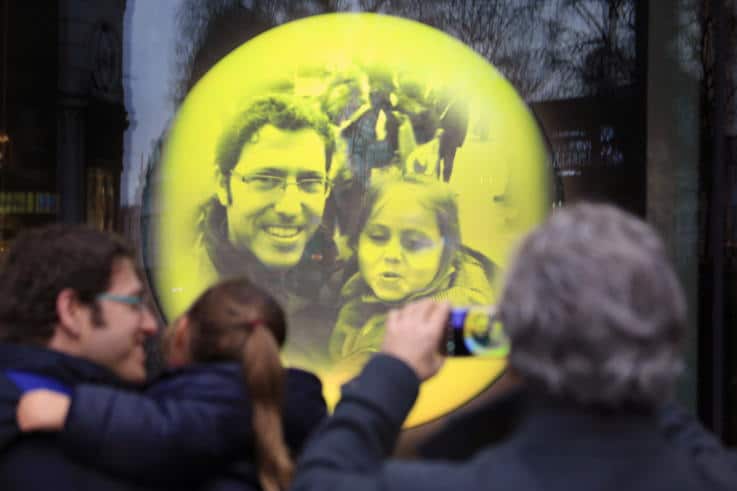 Is it predominantly tourists who come in? Is that a big part of the strategy?
We have stores in Shanghai, London, Las Vegas, Orlando, and New York, and they're all slightly different in terms of the mix you get. The people that come into our stores are usually looking for a good time. If we use London as an example, on a Saturday afternoon, are we going to have a tourist? Yeah, absolutely. If you come in on a Friday night at 11 o'clock, are you going to get the local London family that maybe just went to a show or went to a movie premiere, and then popped into the store to grab a sweet treat for the train home? Absolutely.
People used to shop by necessity. "I have to go buy something. I have to buy something for my home. I need to buy a new shirt." Now they can do it online or they can do it in a different way.
Now people are being involved in retail for entertainment, and we have that universal appeal of if you just want something fun to do for five minutes to an hour, you can come and immerse yourself in the store, see the world's largest chocolate wall, and have a great time. Whether you're a tourist or it's your 50th time to London, or you live up the street, we're something to do.
If you use TripAdvisor as a benchmark, we're a top 10 of things to do from a shopping standpoint in every single city that we're in.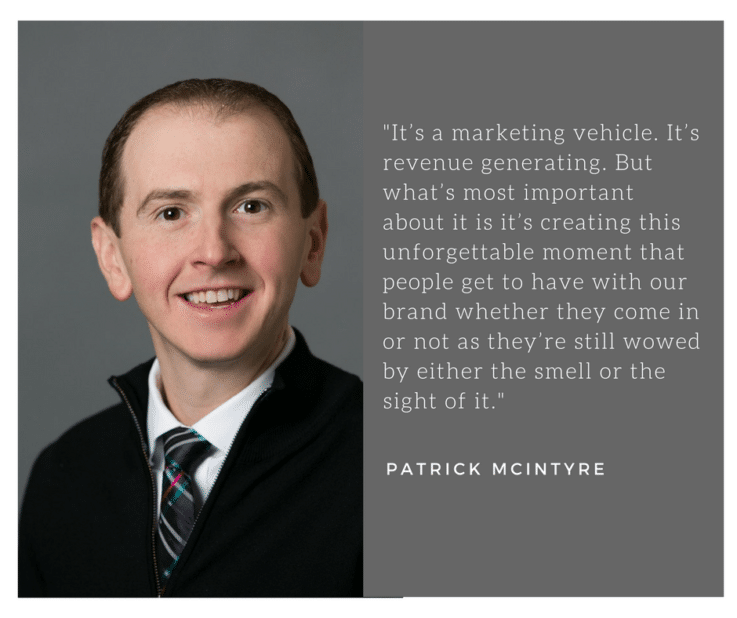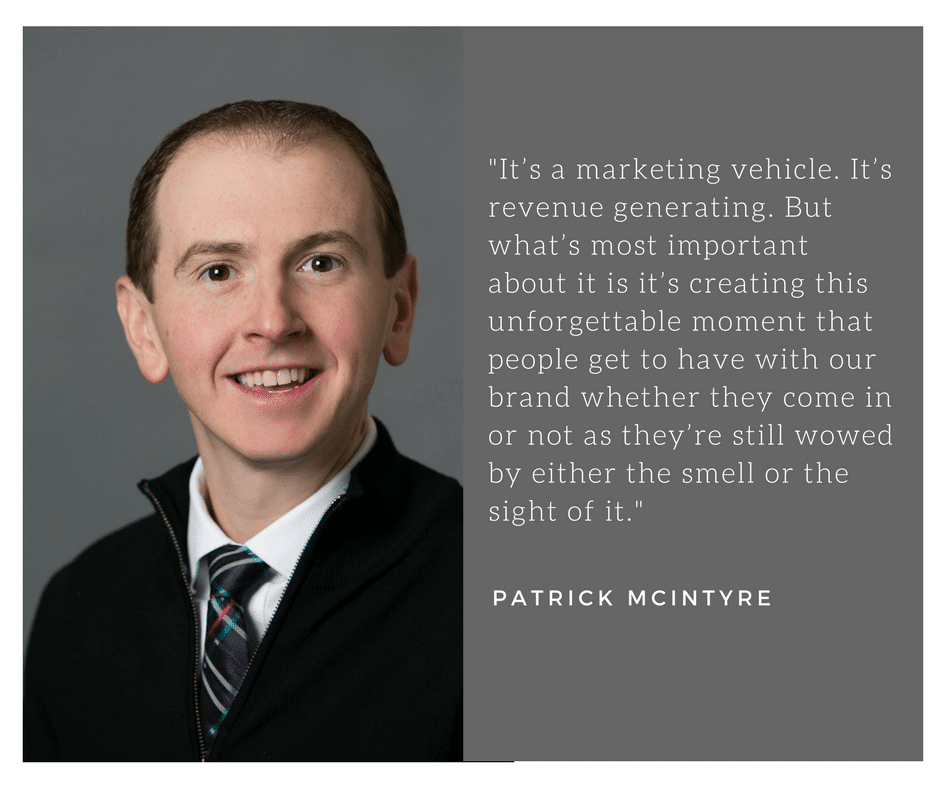 At the time the London store was created M&M sales in the UK were around 50 million. How has that changed since the store opened?
We had a record year last year. The chocolate category globally has not had the same growth that it has in the past. Last year there was a very small growth in the chocolate category, but M&M's grew over 4% in the UK.
When M&M's London opened, the brand ranking for M&M in the UK market was around 26. Today, it's about 5. Is it all because of M&M's World London? No, but is M&M's World London a significant part of that ecosystem that reinforces those unforgettable moments that you can have with an M&M? Absolutely!

How does the M&M's World experience translate into sales or is it more about brand building?
It's an interesting question because brands, particularly CPG companies, struggle with this, and you can't quantify your marketing expense. I think the best example for me is when I was in the Leicester Square store and went out to lunch. I stopped at a convenience store for a bottle of water and the couple in front of me were trying to pick the candy they wanted. The husband grabbed this big bag of M&M's, and she went, "M&M's? You never have M&M's."
He's said, "Ever since I walked by that store, I just felt like I needed some chocolate and I just wanted to grab some."
This is the consumer that didn't even come into the store, but because they walked by it, because they saw it, because they smelled the chocolate, because they had this subconscious experience, it related to a sale up the street. It's a marketing vehicle. It's revenue generating. But what's most important about it is it's creating this unforgettable moment that people get to have with our brand whether they come in or not as they're still wowed by either the smell or the sight of it.
When I think about M&M's World stores across the world, as well as our online and business-to-business channel, we are bringing the best of the M&M's brand direct to the consumers by delivering very unique and memorable experiences. That's what we stand for, and there's lots of brands out there, right? We could name 100 of them, but what to me is most telling is where people spend their time, their energy, and what are they aligned to.
I think the general trend that you're going to see us do is be the best friend that we can and really deliver for those consumers day in and day out the products that they want and a fun environment to come in. Even if they don't spend money, even if they come in, take a bunch of pictures, have fun, and then they walk out – great! Because in the future when they're in their local store and they can't figure out what kind of snack they want to have for the day, maybe they'll buy a bag of M&M's, and that's all we care about.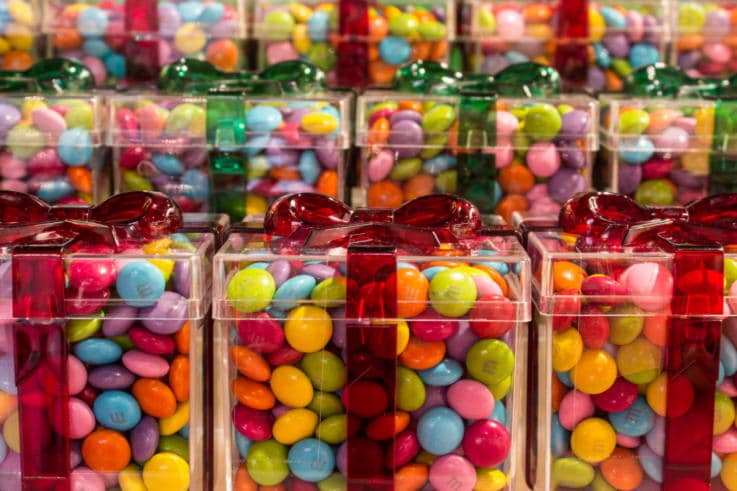 M&M's has just launched a new Caramel range in the US, its biggest ever new flavour launch – how do the stores tie into a new product launch?
Caramel is probably one of the most anticipated flavours that we've had in a very long time to launch in the US. Mars is an organisation that's very much grounded in a decentralised and local way, and they believe in sourcing not only raw materials but manufacturing in the same sites that we sell in. So if we make something in the US, we sell it in the US. If we're going to sell in the UK, we'd like to make it in the UK.
M&M's World New York held the official launch event, with an arcade and augmented reality games for customers to play using their phones. Over 25,000 caramel sample bags were given out in-store along with discount vouchers.
Caramel is going to be huge. It's going to be a massive activation in the US, and we're really excited about it, and we're hoping that the consumer reacts very positively to it. Then we can share that across not only on all of our stores, but all of our outlets across the world.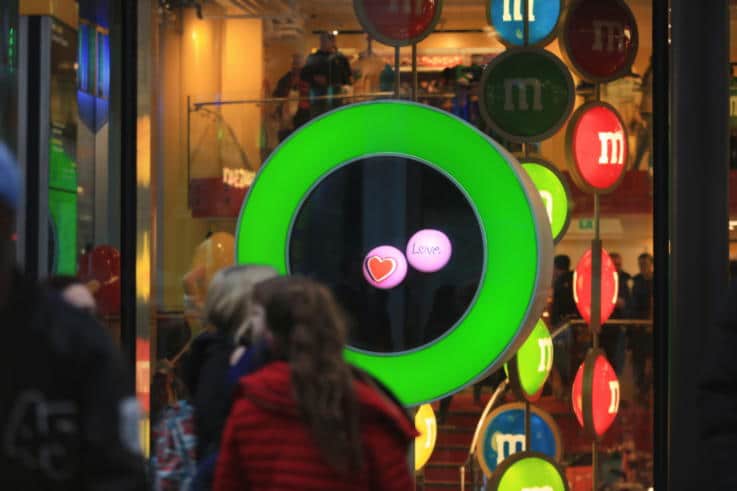 Can you tell me about your personalisation offerings?
You see this huge trend in personalisation and everyone is like, "Oh, it's the new hot thing." In my mind, since I've been doing this a long time, it's not so much a new trend in terms of people have always wanted something specific. If you're on holiday and you're in a M&M's World Store, you want something that says M&M's London because that to you is personalised because you could only get it there.
When we first started our stores 20 years ago, the thing that differentiated us is that we had 22 different colours of both milk and peanut M&M's. If you buy a bag of M&M's from a normal store, you get just the six colours, whereas in our store you can customise your own bag of M&M's, with your own colours and flavours. You can buy a little bit or you can buy a lot, and it's personalised to you.
Now you fast forward 20 years to today, and we've got the technology and the innovation, so you come into the store and take any of those 22 colours (aside from black) and print your own message onto them. You can give it as a gift, with your colour, your message, 100% your way, and the consumers are loving it.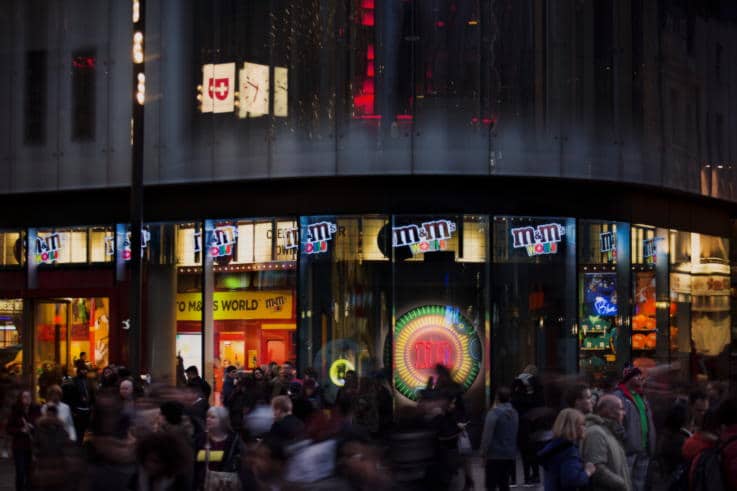 How does this link in with your online offering?
At M&M's Retail we will soon be a fully integrated omnichannel direct-to-consumer business. My M&M's strategy is around occasion-based gifting, whether it's a wedding, baptism or birth, and you want to celebrate that moment with your favourite colour and you want to put that name or that message on an M&M, and you send it direct to your house, that's the link to the business.
Our ambition is you can start your journey either online or in the store and you can finish either online or in the store. We can ship to you. That's really the direction that we're trying to go. As you know, if retailers don't have fully integrated omnichannel today they're already behind.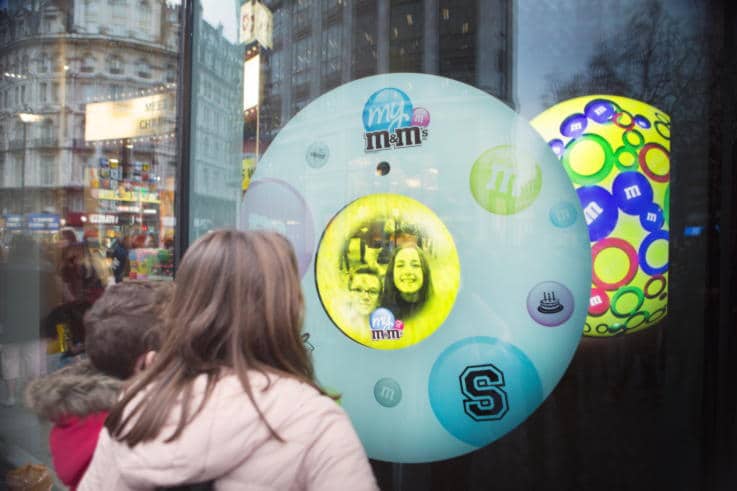 Can you tell me a bit more about your strategy around merchandising?
It is ever evolving, and it is 100% grounded in what does the consumer want. I think any retailer who thinks that they can tell people what they want as opposed to listen to what the consumer is telling them will learn that lesson the hard way.
Our current strategy is really focused on the M&M. First and foremost, if you come into our store, you can get any colour you want. You can get hopefully get the flavour you want. You can buy a beautiful chocolate-filled gift, whether that's under £10, maybe that's £20, or maybe I want to get it personalised and I want the high end, and I want a really, really, really nice gift.
When you think about our strategy in terms of chocolate, then there are the accessories. Category 1 is buying a dispenser that can either sit on the shelf or sit on my desk that I'm going to continue to refill with M&M's, and continue to have those moments, and share those with others.
Then you have Category 2, which is what other kind of items would you want to buy for either yourself or for others in terms of apparel. We do a large assortment of home items around baking because M&M's and baking go hand in hand. Having ranges that match when you would use an M&M, I think is really important.
Then Category 3 are gift items that are very city specific, whether that's a mug that says M&M's World London, or a key chain where you can have that memory on your keys for a long time to come. Those are the basic categories that we play in the most.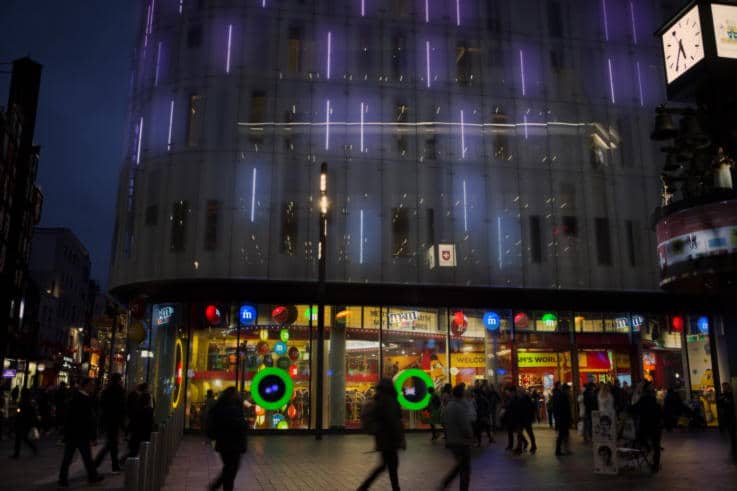 What sort of mechanisms do you use to grow and improve and build the M&M's brand?
The power of the M&M's global brand is we get shopper insights from across the world. We've got teams in each market really listening and looking at the consumer. Specific to our stores it's just talking to the guests.
We don't look at customer service or guest service. We really look at guest experience, and I think that's a really important delineation because the experience starts before you even come into the store.
If you look at the M&M's World London store from outside you're going to see these digital windows that are going to say, "Come inside. We have the world's largest candy wall." Then you're going to get a little bit closer, and you're going to see people actually interacting with the windows. We have a selfie station where someone can take a picture of their face and it blows it up on this huge screen and it says, "You can do this in the store if you want!"
You've had an experience and you haven't walked in yet. You walk in the doors, you smell the chocolate, you're overwhelmed by the size of it. You walk down the stairs and there's the world's largest candy wall. It's 150 feet long, with every colour of M&M's you could possibly imagine.
Then you get to the personalisation section where you can put your message on that M&M, and now you're just totally blown away.
To us, the other thing that's happening is not only are you interacting with the candy, you're interacting with our associates who are giving you this fun, boisterous, great experience. But we're not trying to sell you a car, we're just trying to have fun with you and show you some cool products.
You're interacting with the candy, you're interacting with the guests, and you're interacting with the whole environment, that to us is guest experience. That's where we spend our time and energy measuring and honing and getting as good as we can.
Images courtesy of M&M's/Mars