Concept Stores
What is a department store?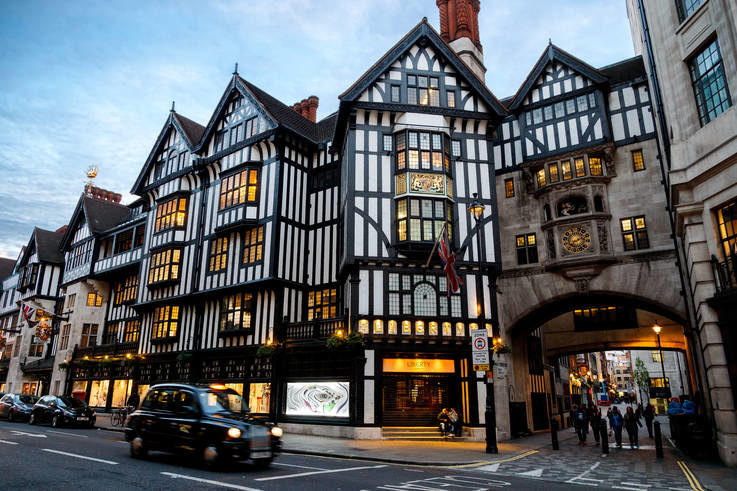 The department store is one of the pillars of the retail industry, alongside the high street, shopping malls, independents and more.
These large stores sell a wide range of different products, which are organised into different departments or categories. This makes the space easier to navigate and browse.
Departments vary from store-to-store, but typically include menswear, womenswear, childrenswear, technology, toys, food, household appliances, homewares, shoes, handbags, beauty, accessories, gifts and more. Usually department stores stock a range of different brand products, but some also have their own product lines.
Many department store brands have their own chain of stores in different locations across a country or even the world. However, some of the most famous department stores such as Harrods and Liberty in London are unique stand-alone stores.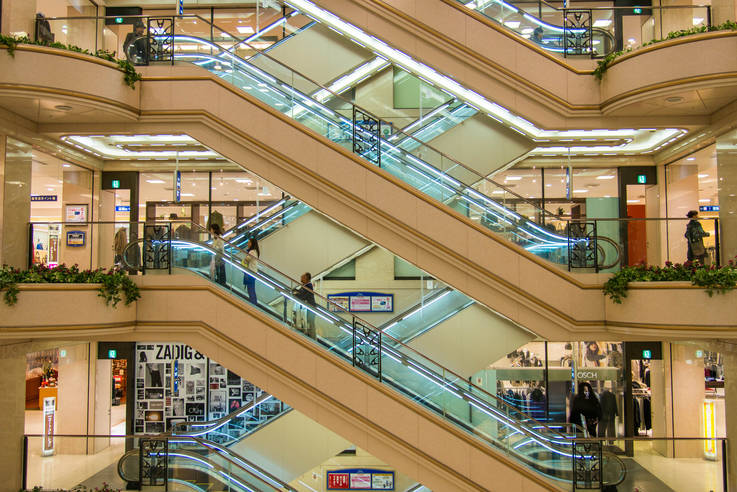 Who are department stores for?
The first official department store was reportedly Harding, Howell & Co in London, which opened in 1796. Department stores soon became commonplace throughout the UK and also took root overseas. The first US department store was Arnold Constable in New York in 1825.
Although originally women were the main customer base, the idea of the department store is to offer something for everyone.
A good department store can eliminate the need for the shopper to go anywhere else as they can find everything they want under one roof. In order to encourage the customer to spend more time in the store, department stores are usually equipped with one or more restaurants and toilets. They may also offer added-value services such as gift wrapping, personal shopping, price matching, home delivery and even store credit.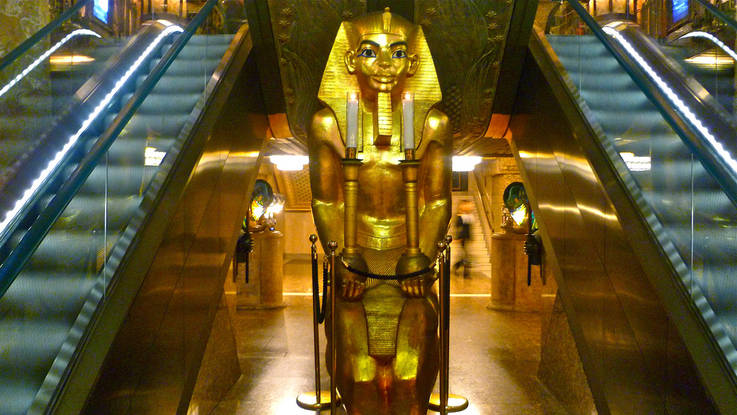 "Harrods"
by Herry Lawford is licensed under CC BY2.0
Department store design
Design is a key component of department stores as customers need to be able to find their way through the different departments easily. Many iconic department stores are housed in striking heritage buildings such as Selfridges. They also have unique interior design features from Liberty's ship-timber construction to Harrods' unique Egyptian Escalator.
It's not just the interior design that is impressive though. Department stores are also well-known for their window displays, particularly around Christmas. Shoppers will often visit the stores just to see how each brand is interpreting the season. Eye-catching and unique window displays are one way that department stores maximise their large footprint. They also help communicate the breadth of products they sell.
Here's a look at three of the best department stores in the world putting this into practice: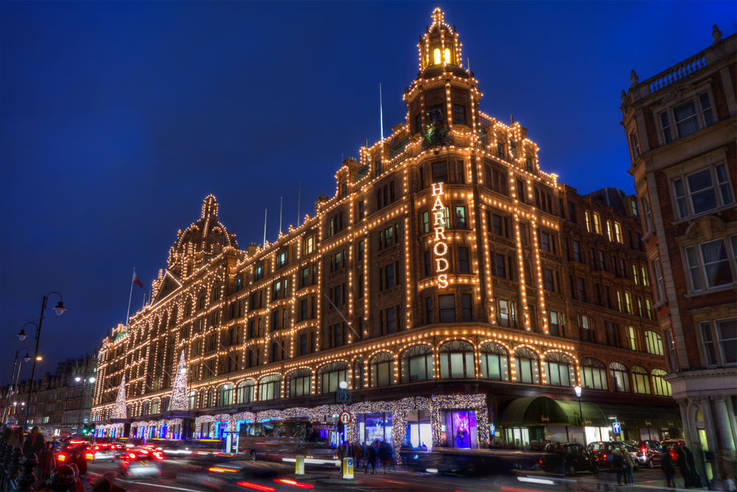 1. Harrods, London
Harrods' motto of Omnia Omnibus Ubique sums up the department store offering, translating to "all things for all people, everywhere". Perhaps the best known department store in the world, the store we know today first opened in 1849 although the brand started life some time before.
Covering a space of more than one million square feet, Harrods is Europe's biggest department store. Its 330 departments are home to everything from clothing to cosmetics, jewellery to food. The store is well-known for its luxury and designer product offerings.
As well as merchandise, Harrods has a full range of in-store services including a pharmacy, spas, wellness clinic, interior design, tailoring, finance, real estate, personal stylist and more. Customers who are fans of the brand and the lifestyle it offers can have it touch every aspect of their lives.
In recent years Harrods has continued to improve its offering through technical innovation including a mobile app with in-store mapping capability. It's also used audience recognition technology to see who is responding with its digital ads and the brands that interest them. As such, the store continues to learn more about its customers and how to serve them better.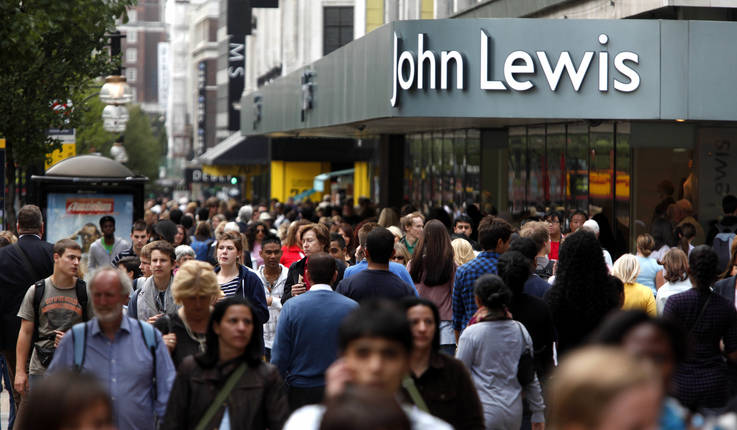 Image credit: John Lewis
2. John Lewis, UK
John Lewis is one of the most well-known high-street department store chains in the world, despite its UK-focused presence. There are 48 stores throughout the UK, but the company has also experimented with concessions in Australia. It operates a unique ownership system which makes all 86,000-plus members of staff partners in the business. This makes them far more invested in the success of the company.
The first John Lewis store opened on London's Oxford Street and the company continues to maintain a flagship store there. The layout of its stores varies depending on whether they are smaller format or full-scale offerings, but with the same consistent feel. Product categories includes everything from homewares and appliances to clothing, haberdashery and cosmetics.
John Lewis has also invested in its exterior design to give stores their own unique look. This includes the ship-styled Cardiff store, glass oval at Birmingham New Street Station and filigree-pattern of the Leicester store.
A reputation for quality means that John Lewis is one of the most trusted brands on the high street among consumers. Over the last ten years the company has become part of UK Christmas tradition thanks to its hugely successful Christmas ad campaigns. These help to keep the John Lewis name in customers' minds at a particularly lucrative time of year.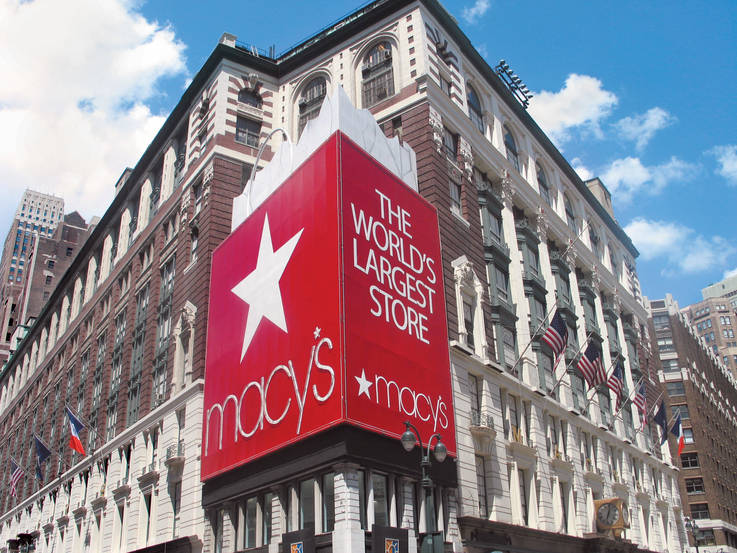 Image credit: Macy's
3. Macy's, New York
Macy's is another world famous department store. The company's flagship store in Herald Square, New York opened in 1902 and covers more than 1.1 million square feet of retail space. The brand was first conceived in 1858 following a failed series of retail openings in Massachusetts by founder Rowland Hussey Macy.
There are more than 600 Macy's stores across the US, as well as a planned opening in the UAE. The flagship store was named a National Historic Landmark in 1978 and still has some of its original wooden escalators in operation. It sells a huge array of products, including clothing, shoes, accessories, furniture and gifts.
Since 1924 Macy's has held an annual Thanksgiving Day Parade and been the sponsor of New York's Fourth of July fireworks display since 1976. Both of these events help to foster good feeling towards the brand from the public and keep the Macy's name in conversation.
Although the options for shoppers have expanded over the years, department stores still have a place in the retail mix. Unlike shopping centers and malls, every department in a department store is curated. The company has spent time finding the best products in that category from the best brands. This means the customer can have confidence in their purchase – whatever they buy. And that's a good way to keep them coming back.